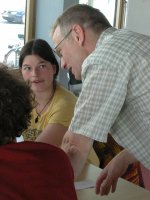 Teaching
We lecture in various study programs in natural, economic and engineering sciences. Our overall aim is to make students aware of political, social and communicative processes and provide them with the necessary competences for dealing with and organizing such processes. The courses in the area of forest and environmental policy seek to develop, strengthen and improve students' analytical and communication skills. Interactive teaching formats are employed to provide the economy, civil society and government with decision-makers that act responsibly towards our natural environment.
Students are challenged to work with and learn from concrete cases in various areas of environmental policy. We direct students' attention to actors, encourage them to analyze actors' positions and interests, power resources, norms and communication patterns and thereby help students understand and apply theories and methods of the social sciences. It is very important for us to develop and deepen students' theoretical knowledge through projects and exercises and to enable them to apply their expertise and skills to the analysis of real-life problems.
Information about our courses can be found under the following links:
Field trips and field trips reports
For detailed information about our courses please consult the information management system of the TU München TUMonline and the learning platform Moodle.