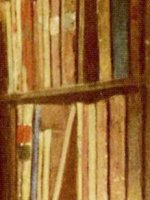 Library
You can find the literature related to the research interests of the chair in the catalogues of the TUM Library, Bavarian State Library and in the Library of the Ludwig Maximillian University of Munich. Many journals can be accessed online from the TUM network. If you want to search libraries in the German speaking areas of Europe, we recommend you to use Karlsruher Virtual Library Catalogue.
The chair also possesses a number of books for internal use. Our collection contains publications on the following topics: Forest and Environmental Policy, Environmental Law and Methodology of the Social Sciences. We also store all dissertations and Diploma, Master and Bachelor Theses that were written under the supervision of the members of the chair.
You can work with our collection at the chair. For access, please contact us using our contact form. Most of our books and other publications are also listed in the electronic catalog of the TUM Library. Unfortunately, some of the books that are now at the TUM library are still marked as stored in our collection. We recommend you to contact Cornelia Wenske before you come over to borrow a book.